©L.E.G.I.O.N.-X.
©L.E.G.I.O.N. -x.
The Creation of a SUPER HEROIC with the "Collective" of Powers of the People.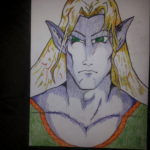 Created and Written
By, Terry "the Warrior" Reece/Karoderick "ROD" Reece
A Production of the Powers of The Collectives of Futuristic SCI-FI Technological Visionary Suggestive Impact, with Creativeness and Profound awareness!
The Creation and Development of this "Innovative" SCI/FI/FUTURISTIC Super Heroic Character is to Enhance the Greatness of the LEGIONM brand and give New, Exciting, and Continuous enjoyment and Fun to how Powerful a "Collective", working together can be.
The "Collective" is a "Super Natural/Spiritual" Heroic, whose "Collective" of DNA is Fueled by "NANO-Mites", which can form/restructure/reshape/re-arrange/refresh/regrow/reemerge/substain/last.
The combination of Science, Fiction, Super Natural, Mystery, Magical, Technological, Futuristic, Spiritual, Theoretic, Truth, and profound togetherness of stories, plots, scenes, and compilation of Super Characters, and the STAR Super Heroic Being NAMED ©L.E.G.I.O.N. -x.
©COPYRIGHT SEPTEMBER 10, 2016; TERRY ALLEN REECE, AKA "the Warrior"
©L.E.G.I.O.N. -x. ,: is A PRODUCT BRAND OF ©REECENETRICS™ BY ®REECE ENTERPRISES/TIME TRAVEL NETWORK, INC./FAMILY MEDIA COMPANY/TDM COMICS INTERNATIONAL, and Jointly owned by the LEGIONM Company, and All Participating Character Pro-Filer Partners: #TX7-391-838, PREVIOUS REGISTRATION AND YEAR: Txu000523784 1992.
Blogroll
Library Copyright Alliance (LCA)
Parent page:
©L.E.G.I.O.N.-X.